Information
Information and photo policy
This gallery belongs to David Gerard. Most of the photos are by me. Email pix@reddragdiva.co.uk.
This site exists because I like going out to take pictures and show them to the world. That's the entire reason.
If a photo doesn't have the name of the subject, please let me know by email or a comment on the photo itself.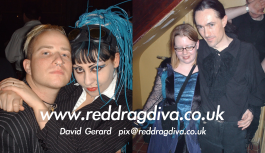 Photo policy
I am not out to piss people off, because I want to keep being allowed to take their photo for online use.
If I take your photo when we're out, I generally want to put it online.
I try to ask first, though if I know you and you're being particularly photogenic I might take a pic and then ask your approval. If I forget, please forgive me and I will take it down if asked.
If you don't want it online, please tell me. I may still want to have a pic just because I think you're aesthetically marvellous.
Even if the preview is awful, the photo might not be at all. See next rule if it is.
If you see a photo of you here that you utterly despise, let me know fairly promptly and I'll probably take it down. (If you say six months later that you utterly despise it, I will be reluctant to.)
If you hate all photographs, please let me know. (If you're in a large crowd shot in a public place, I will be reluctant to take the shot down because of it.)
All the above is subject to variation within reason and good sense. The first rule is the important one.
Feel free to use your image for icons, your own sites, etc. (Please let me know and add a credit.) Original camera JPEG available on request.
Any questions? Email me.
(Taking photos of goths is generally not problematic — cameras are to goths as tuna is to cats. Goths like to feel aesthetically appreciated.)